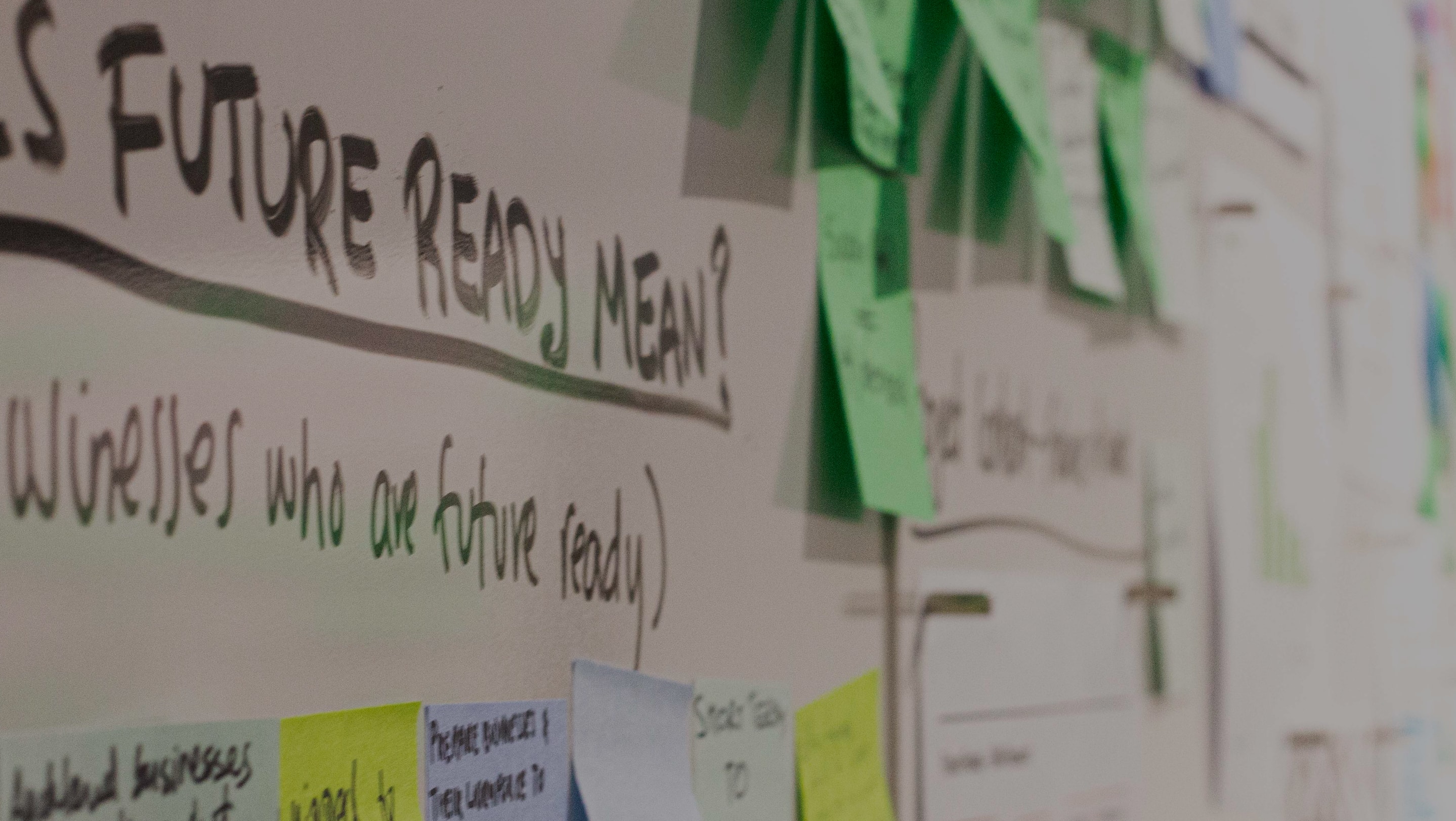 Covid-19: An opportunity to redesign a better future.
Izzy Fenwick | Experience Designer | 23 April 2020
While at its core, the Covid-19 pandemic has brought devastating tragedy, it has also revealed opportunities. We have been forced not only into new ways of living, but also new ways of working. We have found we are more adaptable than we ever thought possible – and our planet is thanking us for it.
For years, business leaders around the world have talked about the future of work being a digital one. However, most also suggested it was still years away from becoming mainstream. This was probably because when it comes to making big transformative decisions, like the steps required to shift to a more sustainable, remote-working model, most businesses will use some type of risk/reward analysis. Is the proposed change worth the risk and the cost and time needed to implement it? With organisations traditionally having a strong bias towards risk (and cost) avoidance, most are reluctant to change.
In March 2020, this choice was taken away from us, and we were thrust into something new. No more waiting to be ready – we were suddenly forced to adapt and to do it quickly.
The restrictions New Zealanders are currently dealing with won't last forever. Now is the time to think more systemically and sustainably about the future of our businesses. What do we want our new normal to look like? What have we learnt that we can tailor or embed to create a better, more resilient future? The financial cost and unimaginable pain caused by Covid-19 doesn't have to be in vain. Now is the time to reflect on our experiences and embrace the opportunity to redesign a new normal, a sustainable normal that delivers better economic, environmental, and societal outcomes.
So, what's really new?
The most obvious change and probably the most impactful, financially, emotionally and environmentally, is working from home. We have new offices (our kitchen tables) and new colleagues (our families or flat-mates). But there have been other changes – more subtle yet still significant:
More autonomy in teams as staff have to take more responsibility for their own work

More flexible working hours as we've all had to be understanding of people's home-life environments

More empathy and patience towards each other's circumstances (both internally and with external partners) as we adapt to our new realities

More trial and error as we attempt to do things differently

More digital communications as we have no other option

And more innovation as many businesses have had to rethink and redesign products, or product distribution services to meet the current market needs and requirements of our lockdown (to be contactless, for example).
What should we keep?
Some of the benefits of our new ways of working have been obvious – we don't waste time sitting in traffic, we don't spend as much money buying our lunches at the nearest over-priced sushi bar, and we don't pump as much pollution into our air. But there are other benefits to this new way of working, benefits that enable businesses to save both money and natural capital.
When it comes to working remotely, the economic benefits include lower real-estate costs for less office space, less money spent on furniture, office supplies, cleaning services and electricity and also reduced absenteeism and employee turnover. Global Work Place Analytics has been studying workplace trends for years and has created a calculator that helps businesses determine their potential savings with remote-working capability. Their research suggests that the average savings, per part-time remote worker, is upwards of $10,000 per annum. Not only is this saving money, it's also reducing the amount of natural capital and finite environmental resource. Less energy needed to heat or cool large office spaces, less waste generated by poor utilisation of paper and less pollution from commuting.
There is also research to suggest working remotely can increase productivity. You have fewer distractions from colleagues sitting around you, better control of the type of environment you work best in or even just the type of music you want to listen to – pretty important in a diverse workforce - and more flexibility around the hours that suit you and your working style.
Some of those benefits might not be apparent right now, but remember this is a pandemic, not a trial in remote working. In reality, we didn't have time to prepare and understand the remote employee experience, the workflows, the new meeting rhythms or the technology. Imagine if we did.
The other element that should be reflected, on when we look to the future and consider our new normal, is the agility and adaptability that we have had no choice but to embrace. Often we feel trapped in our realities; this is how we've always done things; this is how I was taught to do it; this is how it will always be. How might we embed a more adaptable culture in our future? What would our people need to feel empowered to try new things if they saw an opportunity? To feel enabled to test something, iterate it, try again, without waiting for the perfect idea.
Redesigning our new normal
Now is the time to think about the future we need. The biggest mistake we could make is reverting to our outdated, destructive and broken systems that are simply not sustainable. We need to take this opportunity, consider ourselves in a reset and start redesigning.
When it comes to redesigning a new system, we need to start by understanding four key areas: people, process, technology and environment.
People: who is involved and what makes up the experience they need to be happy, healthy, successful and empowered?

Process: what are the workflows and cadences needed to achieve the businesses goals effectively and sustainably?

Technology: what is the most appropriate technology that will support our people, processes and business goals?

Environment: What resources do we need and what waste would we generate? How will we track, offset and dispose of what we use in this new system? How can we reduce the amount of natural resources used and pollution generated?
Exploring, defining and designing within these parameters is a great place to start developing your new, more sustainable, 'normal' post-Covid-19.
What makes this challenging for businesses is that there isn't a 'one size fits all' solution. 'Best practice' ideas are starting to surface – but they need to be built upon and tailored to serve organisations' unique situations and needs.
Now is the time.
Now is the time to look at your business and its people, and to think more systemically and sustainably about the future and to redesign your new normal. Let's not waste the opportunity we have been given.
Izzy Fenwick is an Experience Designer in our Auckland Practice with a passion to make the world a happier and more sustainable place to live in.