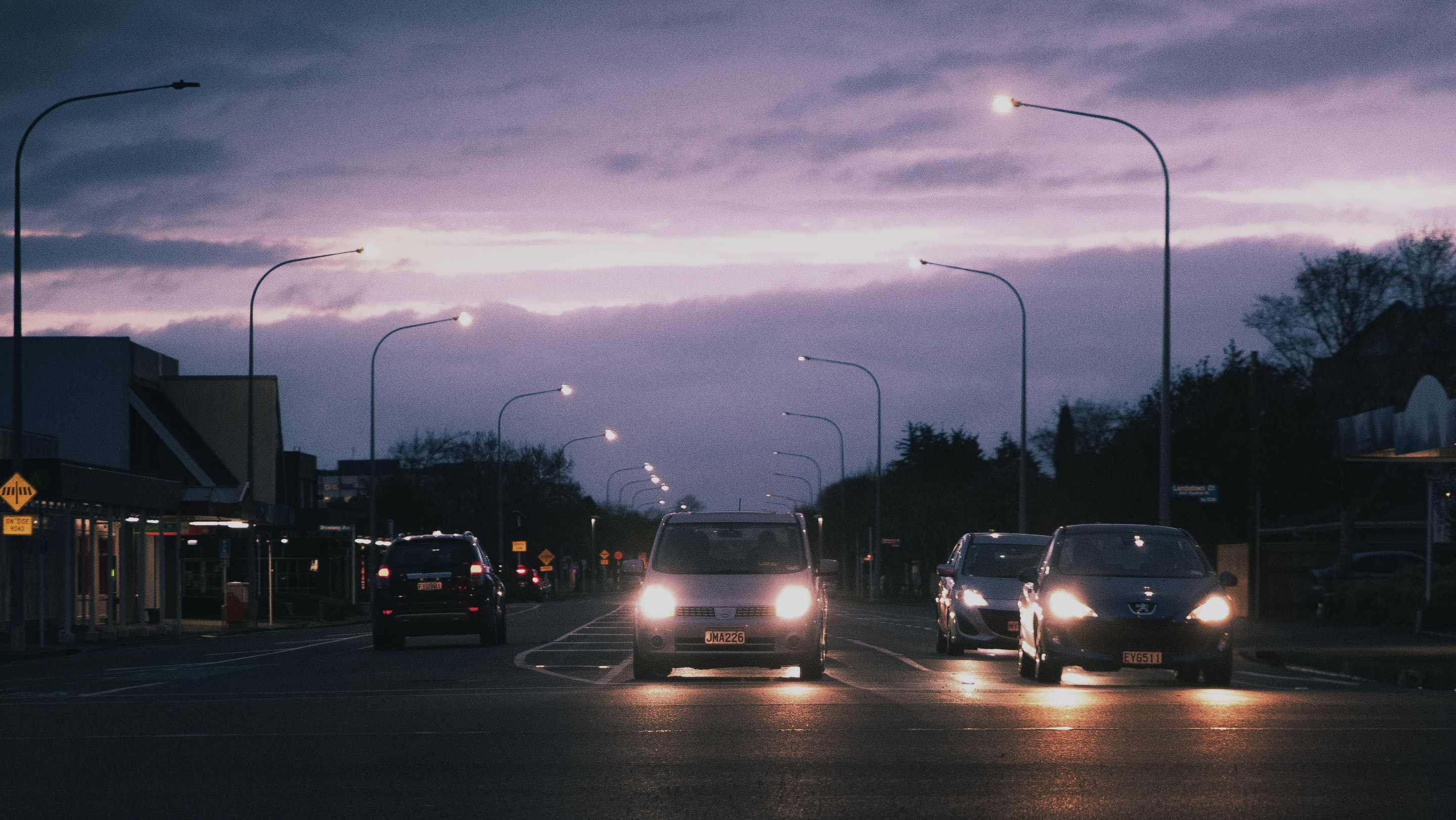 Helping transform the way people engage with Government.
Partnering closely with the Ministry of Transport, we've helped deliver an innovative digital platform that sets a new standard for how New Zealanders engage with the Government.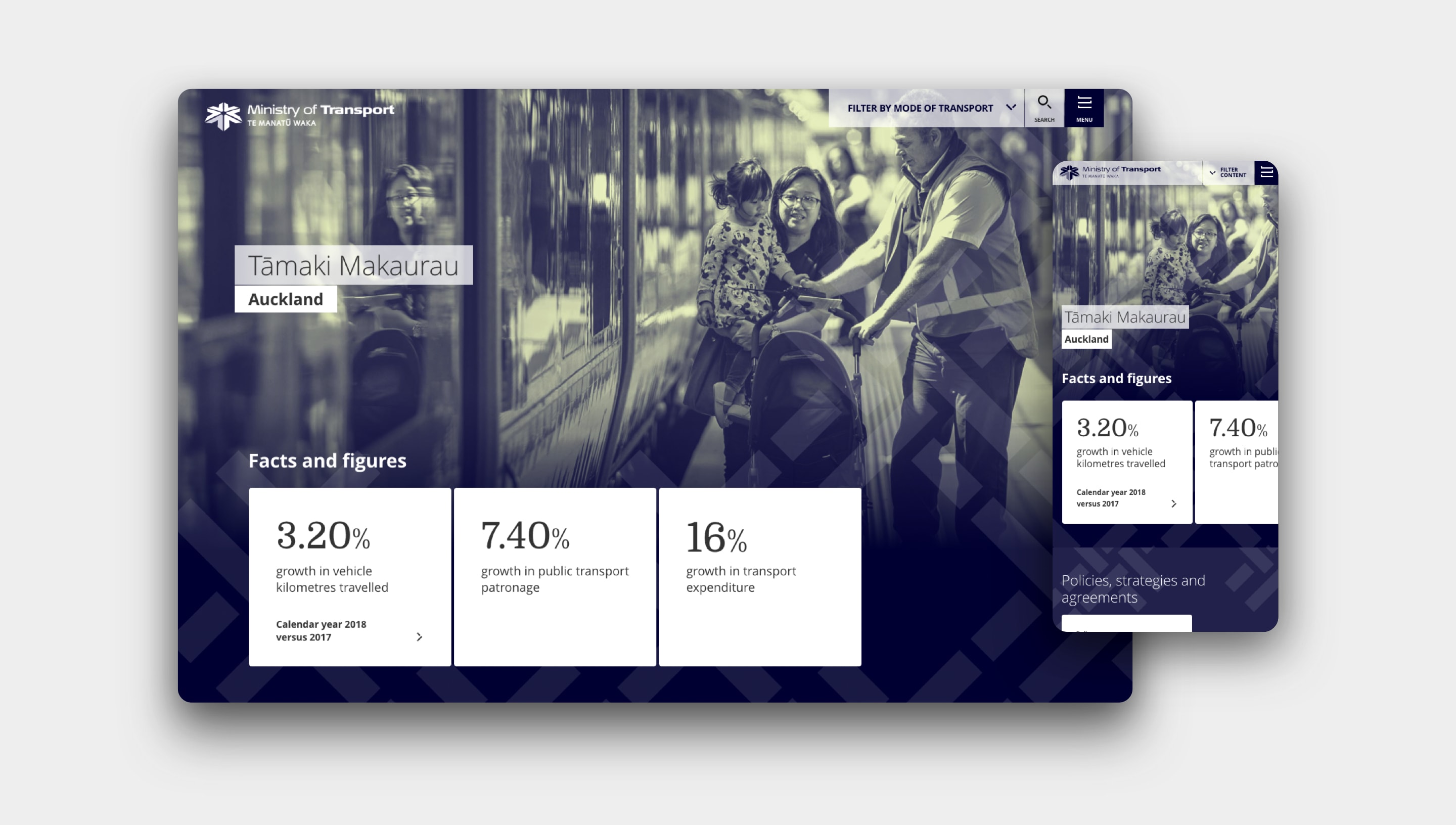 With a requirement to transform their outdated digital presence, the Ministry of Transport required a new platform that would create a better user experience both for stakeholders and end-users.
Content was hard to find – and needed significant rationalisation.

Public consultations were not engaging and had limited visibility.

Data visualisations were structured based on internal teams rather than user needs.

The experience did not reflect the organisation's values and did not serve either stakeholder or users essential requirements.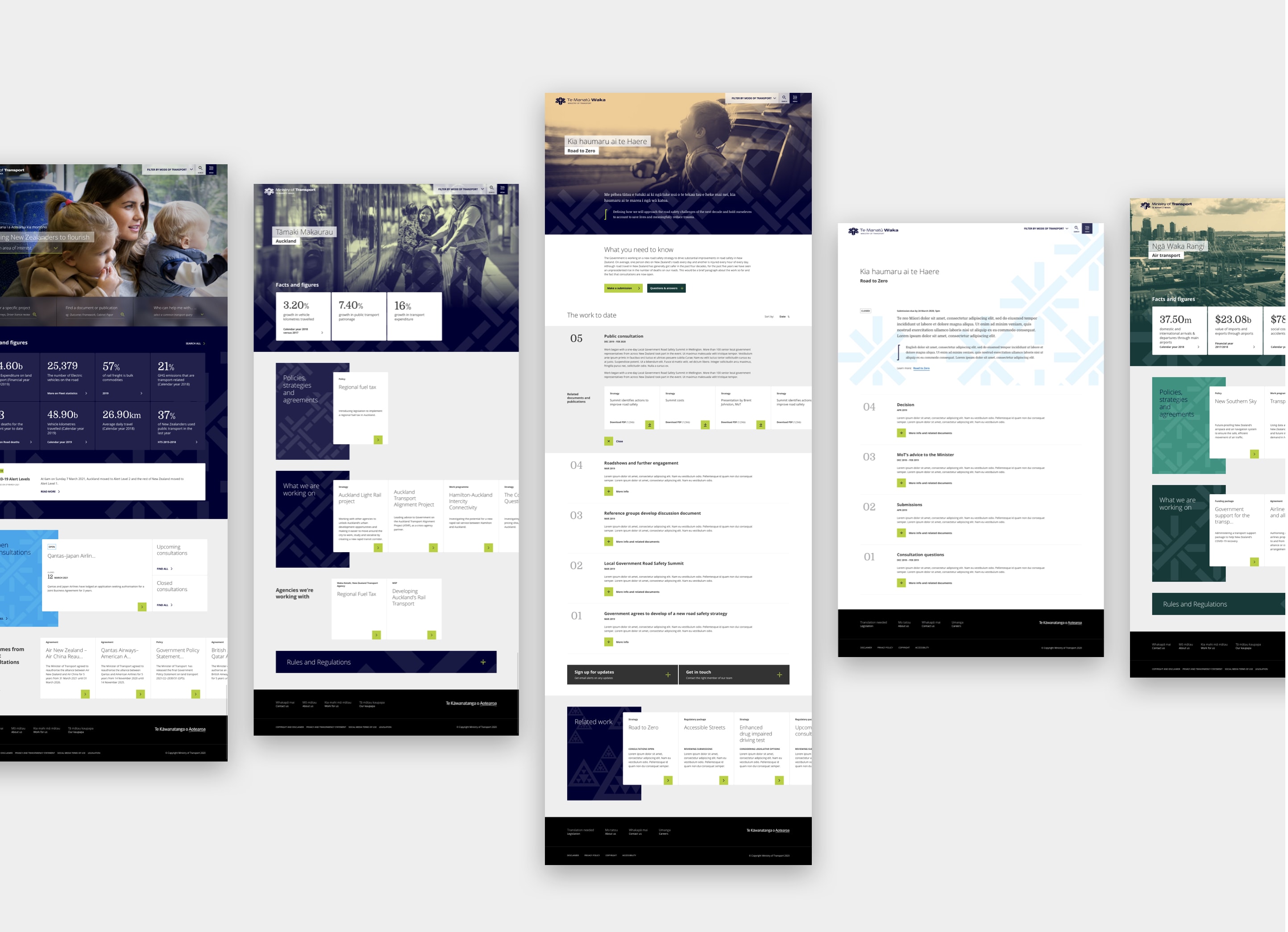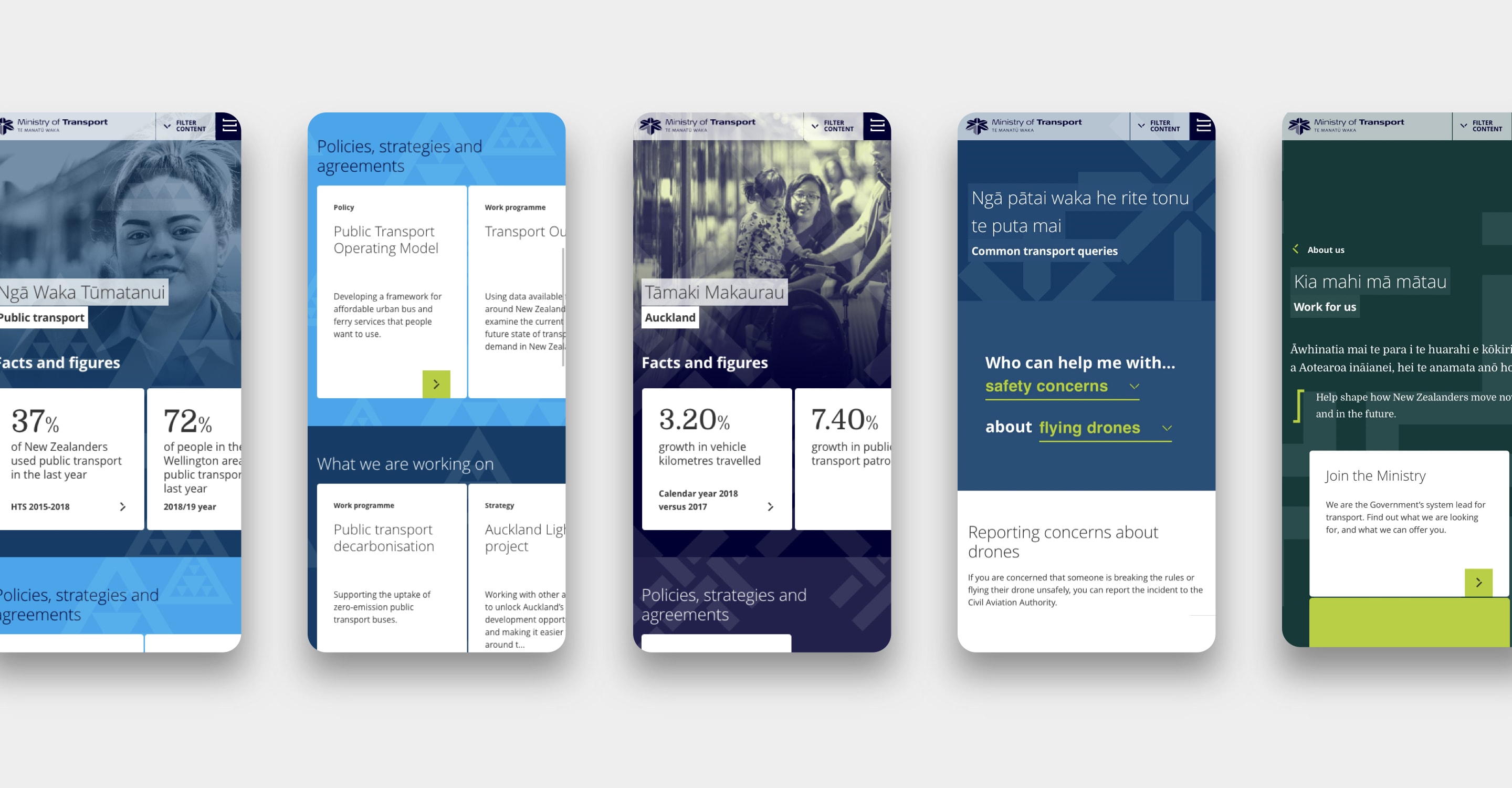 Bilingual functionality across multiple content layers.
A critical feature within the design was the bilingual functionality that supports the Ministry's established Hei Arataki Māori strategy.
Hallmarks of this design include the hierarchy of content being re-defined with Te Reo Māori emphasised and a strong alignment of the Tikanga expression to support the established kaupapa strategy.
The bilingual content design ensures content works side-by-side. Bringing greater prominence to Māori context, aiding audience comprehension and ensuring its placement supports the need to keep Te Reo Māori front and centre as an official language of Aotearoa.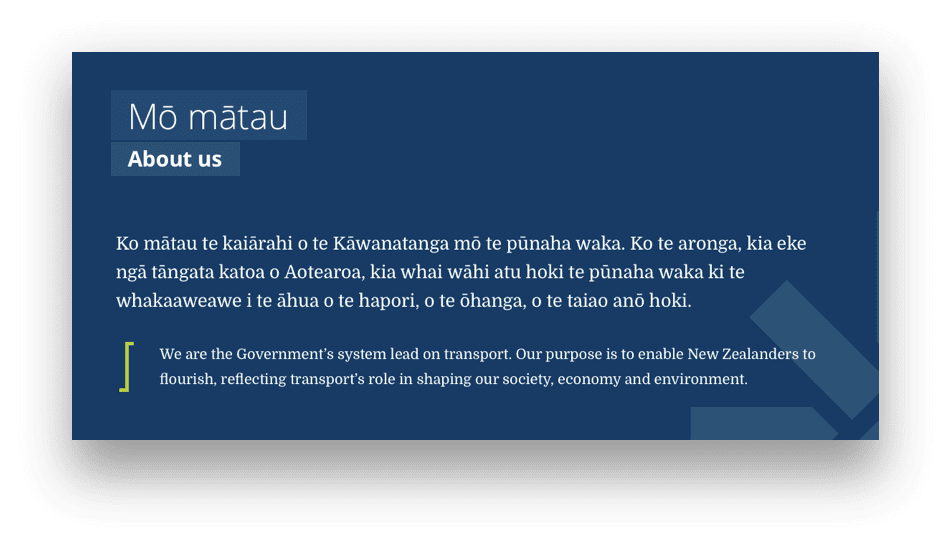 Enhancing the brand design system for a digital environment.
The brand guidelines we inherited were essentially established for offline applications and did not meet the accessibility or contrast standards required for a digital environment.
This limitation is often the case for our clients and our approach in this instance was to work with the Ministry to enhance the brand toolkit to a more appropriate and flexible design system – to meet the needs of the digital platform.
Translating the brand to digital meant the application of visual design elements including typography, colour palette and imagery all had to be re-considered. The core logo identity was retained.
The revised visual design system helped establish a renewed tone of voice and better support interaction decisions to enhance the user experience.
Additionally, we worked closely with the Hei Arataki strategy team to ensure that we applied the Tikanga expression appropriately – and that all the design elements were optimised for a bilingual audience.
Seamless experience for users and an efficient 
platform for the organisation.
Launched in November 2020, the site sets a new benchmark in how users are able to engage with a central Government Ministry.
The new platform provides consistent design structures that create efficiency, simple interactions across core content that supports distinct user types, compelling data visualisations and consultation functionality.
Critically it has been designed to be an effective and extensible bi-lingual solution that places rightful prominence to Te Ao Māori.
The platform will provide users with a simple, seamless experience across a platform that will provide enduring value to the Ministry of Transport.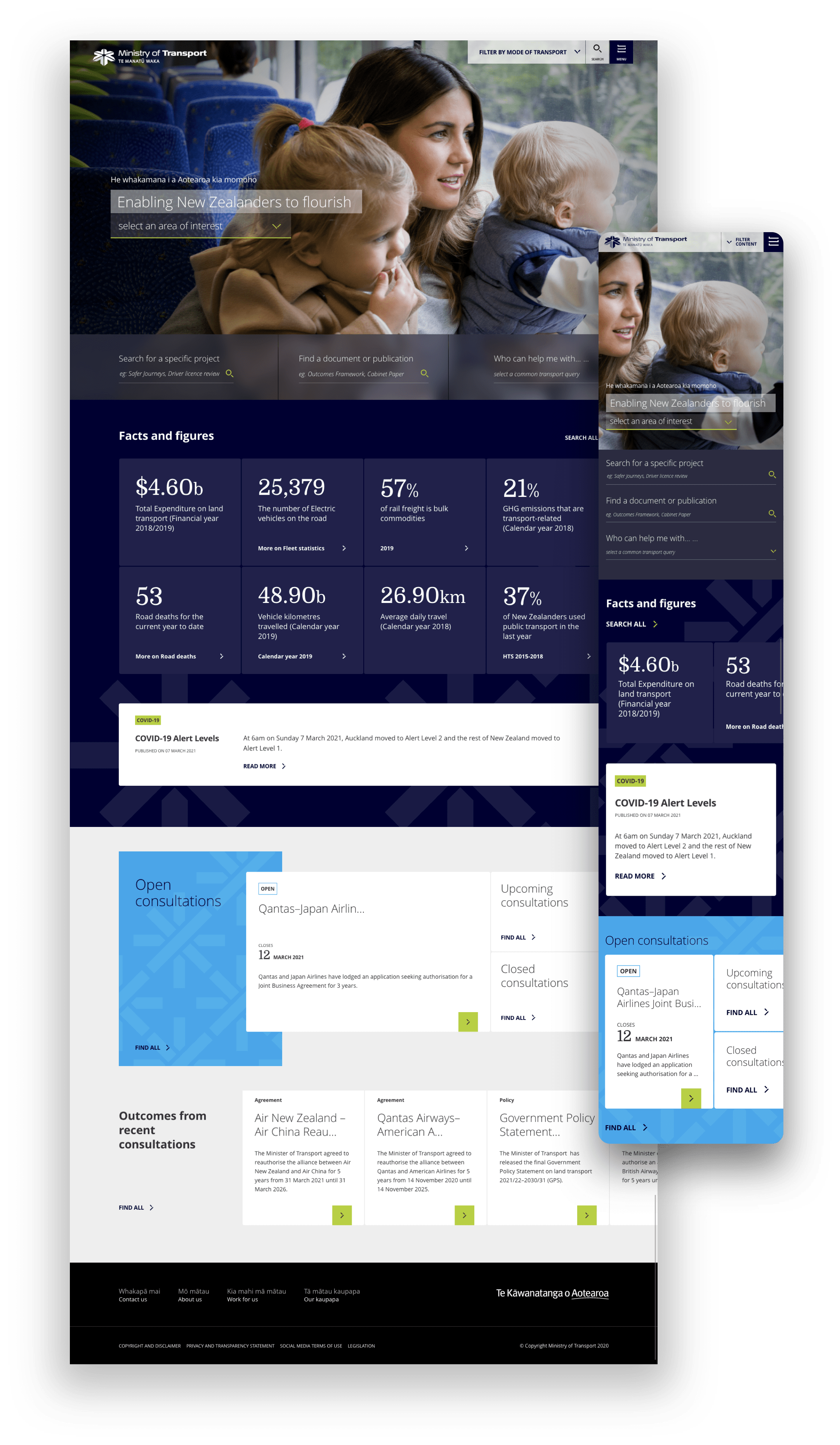 Project Summary
Client: Ministry of Transport
Capability: Digital Strategy, Design Research, Interaction Design, UX Design, UI Design, Production, Design Systems