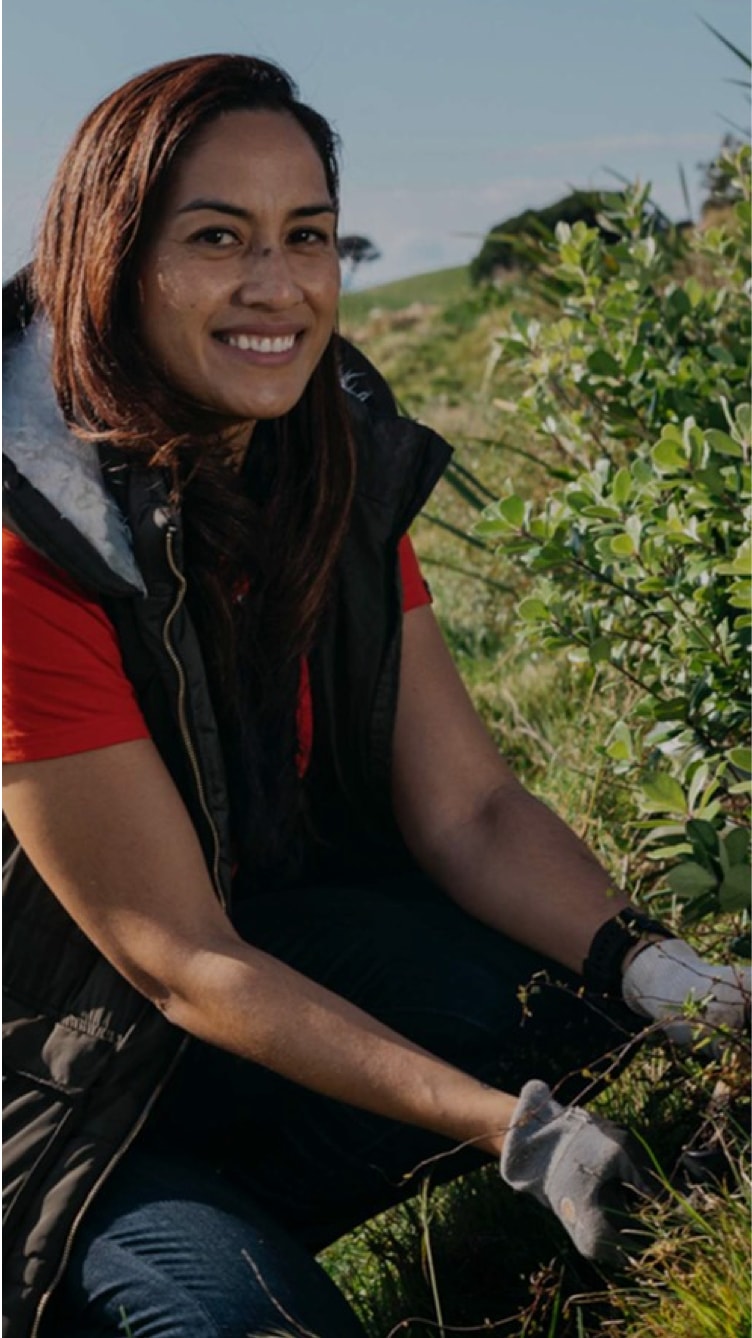 Helping unify conservation efforts across the community.
tiakitamakimakaurau.nz | Conservation Auckland
Following a six-month-long research and design process with DNA, Auckland Council Environmental Services released a brand new platform to increase the effectiveness of the conservation work they are undertaking and promote Tāmaki Makaurau's cultural and historical values.
There are many parties involved in doing conservation work in Auckland, from individual landowners to community groups of various size and reach.
They have a unifying goal but often unique and specific needs and agendas, which can sometimes overlap. Auckland Council's challenge was to demonstrate its effectiveness in fostering conservation work by identifying and addressing all these complex needs and inputs into a single, user-centred digital solution.
The new conservation portal is positioned as an open partnership, funded and initiated by Auckland Council's Natural Environment Targeted Rate (NETR) but presented as a neutral, collaborative and engaging space.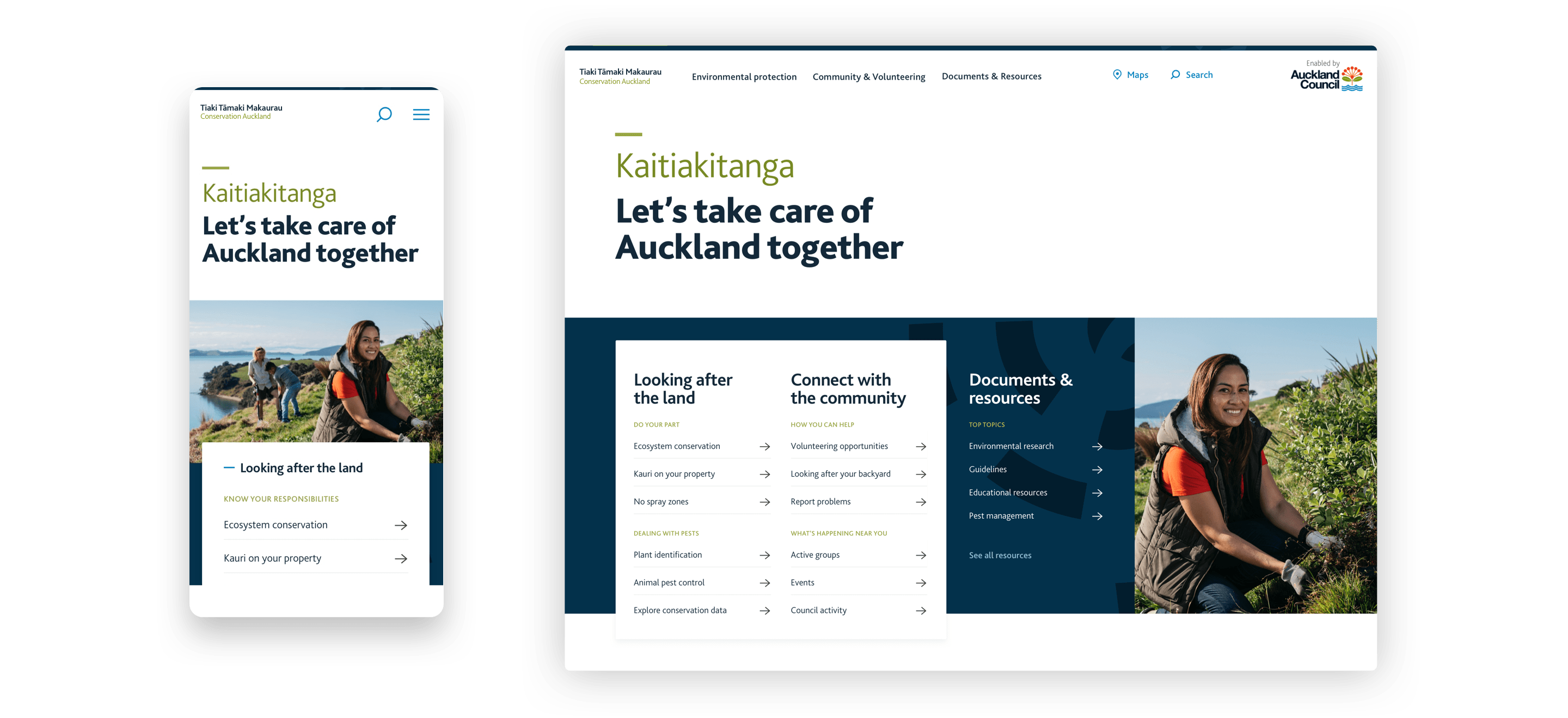 An improved community service.
Interactions with the community and conservation groups happen through numerous departments and branches of Auckland Council, which was known to create challenges for the public — and council.

Our first task was to evaluate community engagement and provide recommendations to help unify Auckland Council's actions and responses. The portal was one of the central components of this cross-channel experience.

A strong partnership with Mana Whenua.
The desire to uphold the principle of kaitiakitanga and give the local caretakers of the land centre-stage was a driving force in the design process. The website structure aims to reflect Te Ao Māori, and the inclusion of Te Reo was the intent from the get-go.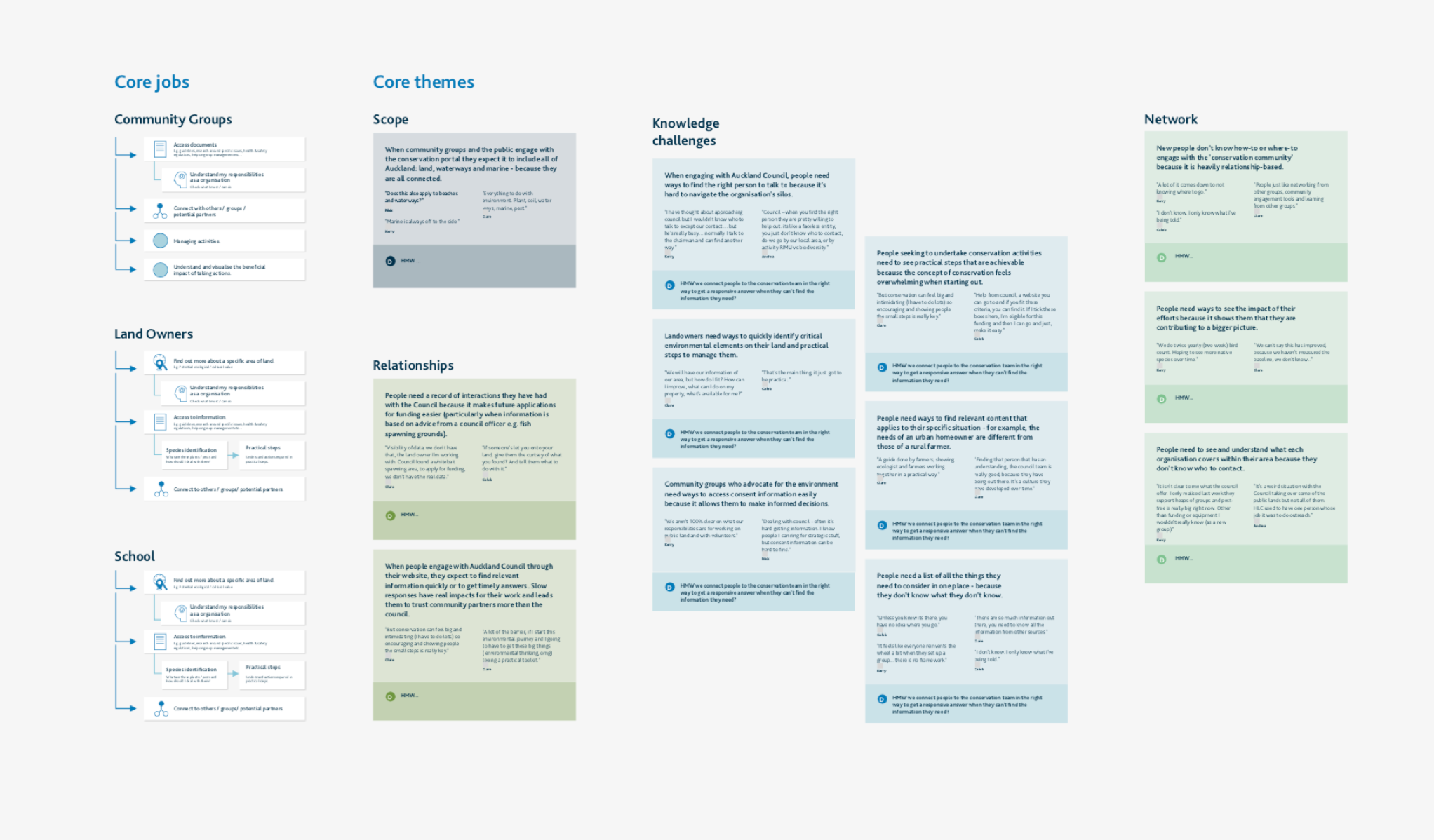 Making conservation accessible to all.
Workshopping with all key stakeholders enabled us to identify all potential audiences and flesh out assumptions around what their needs and challenges might be.
Through user research with landowners and community groups leaders, we validated and tweaked these assumptions and defined what would become the core framework for content on the portal.

Setting the vision. 
Communicating our vision and getting input from key partners such as Mana Whenua was critical for the project's success. To share our learnings and gather feedback, we outlined potential scenarios and created an experience framework that helped render the future platform tangible for all parties.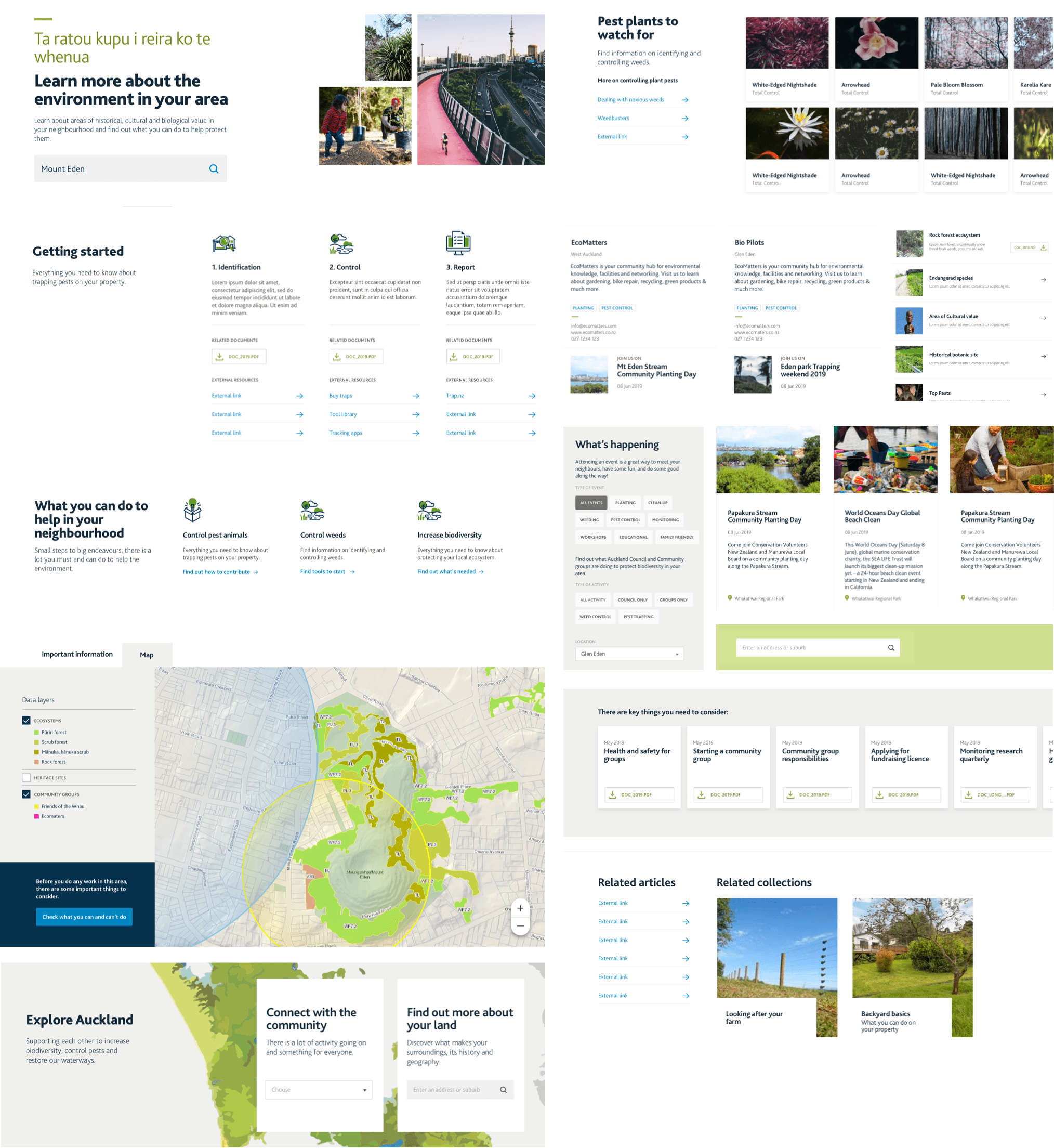 Effective collaboration.
The DNA team worked closely with Auckland Council designers and development teams from the get-go to shape the structure and content model of the platform.
When it came to delivery of the Design System and components, the focus was on making the most of existing patterns for standard elements – to ensure that the visual connection with Auckland Council was consistent and to make the development as efficient as possible.
We paid special attention to components that were unique to this new platform – the signature experiences that created a differentiator to make the portal stand-out from its related websites.
The design was shipped for implementation by the Auckland Council team – alongside completion of the content for the platform. As is common with these sorts of projects there is some variation between the design and the final built platform.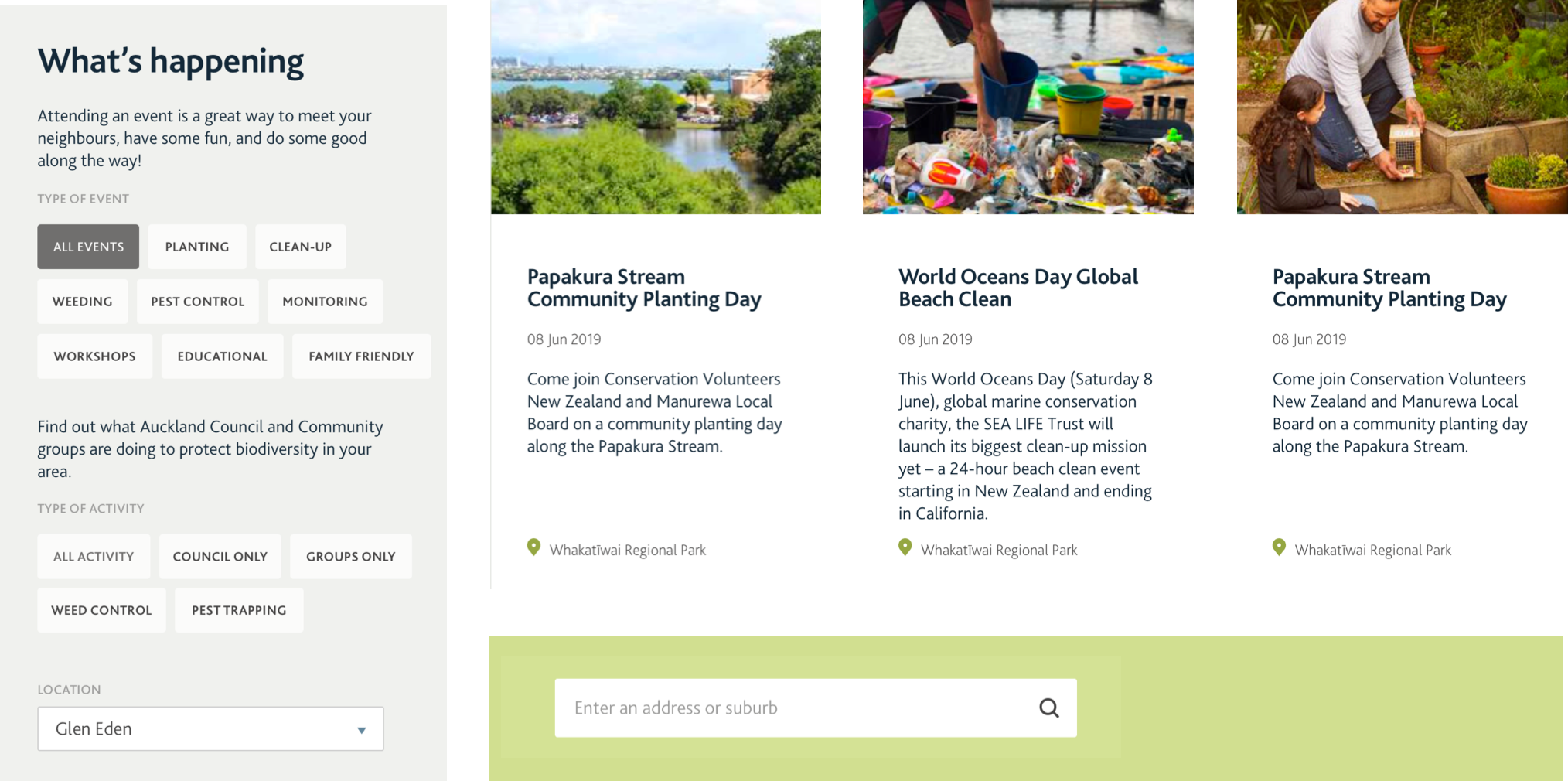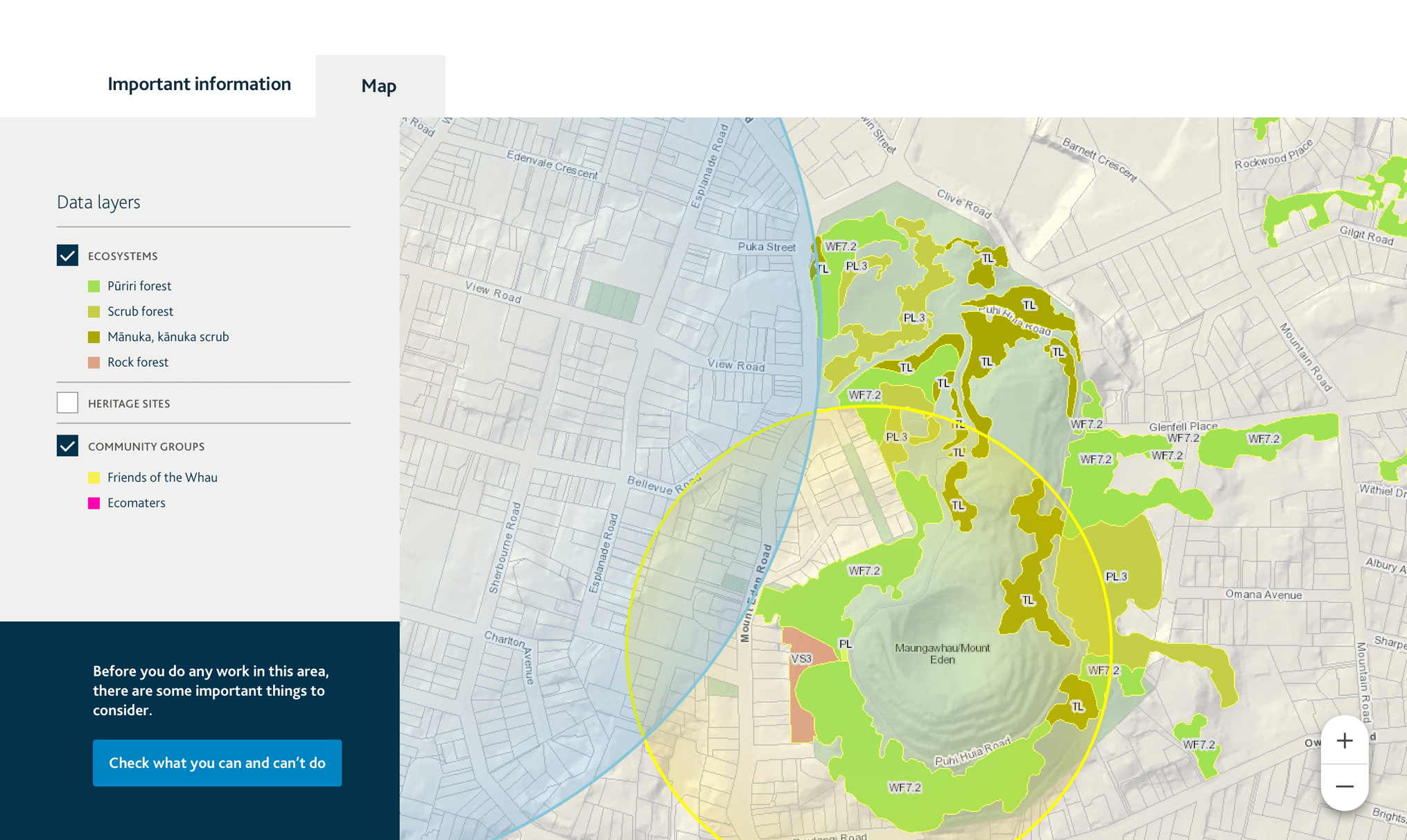 Get in touch if you would like to find out more about this project, our digital experience projects or about our sustainability practice.
Project Summary
Deliverable: Digital Experience Strategy
Project: Tiaki Tamaki Makaurau | Conservation Auckland
Activities: Experience Framework, User Testing, Design System